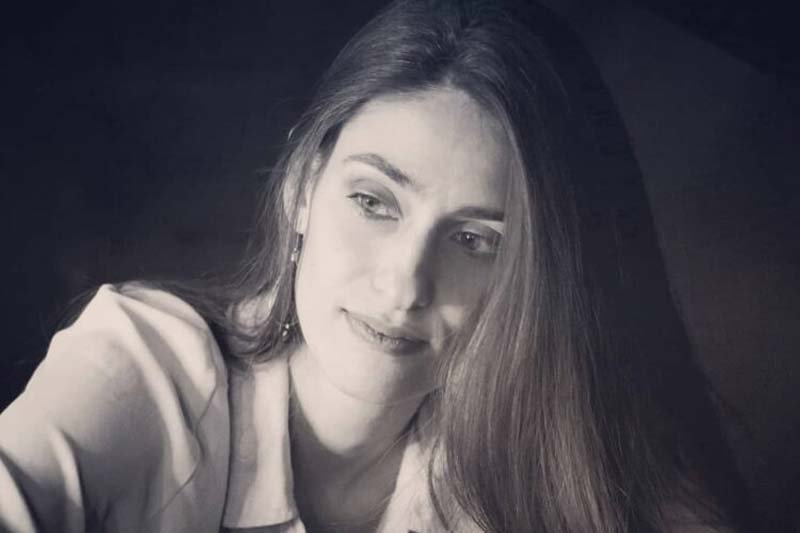 Roxani Chatzidimitriou teaches Piano & Composition, at Musical Praxis Conservatory.
Studies
• Holder of a postgraduate diploma from the Royal Holloway University of London with a specialization in composition (London, 2017)
• Holder of a master's degree from the Ionian University specializing in composition for cinema, theater and performing arts (Corfu, 2017)
• Graduate of the Department of Music Science and Art of the University of Macedonia, specializing in musicology.
• Holder of a piano diploma from the National Conservatory, 2nd prize (Athens, 2013)
• Private composition lessons with Lina Tonia
• Private jazz composition and orchestration lessons with Stavros Lantsias
• Private Jazz Piano lessons with Grigoris Simadopoulos
• Counterpoint graduate
• Graduate of Harmony
Seminars
• Composition seminar in the context of BSO Composer's Day 2019 with Sally Beamich (Bournemouth, 2019)
• "Composition on stage" seminar with Periklis Liakakis and Nikos Kypourgos (Music Village – Pelion, 2019)
• Composition seminar with Michael Obst and Stefano Gervasoni (Festival Mixtur – Barcelona, 2019)
• Composition seminars with Edmund Finnis, Marco Stroppa, Jonathan Cole, Vasco Hexel, Errollyn Wallen, Michael Finnissy, Orlando Garcia, Aaron Holloway & Harry Gregson Williams (Royal Holloway University, 2017-2018).
• Composition seminar with Nikolas Tzortzis (Stegi, Athens Conservatory, March, 2020).
Educational Activity
• Teacher of piano, theory, composition and composition for cinema at the Musical Praxis Conservatory and the New Conservatory of Alimos (Athens, 2021).
• Piano teacher at Kite Music school & MMQ studio (London, 2018 – 2019)
• Piano teacher at St Cyprian's Greek Orthodox Primary Academy (London, 2018-2019)
• Private piano lessons (ABRSM system), theory and composition (2013 – 2021).
Professional Activity
• Record work "Chronographies" (9 Chronographies) with 9 compositions of organic music (Athens, 2021)
• Composer of contemporary orchestral music – collaborations with ensembles.
• Composer of film music – collaborations with artists in the field of cinema, theater and dance.
• Member of the "Cinema Paradiso".
• Pianist in piano bar (Upper Athens, Giotto piano bar)
Competitions
• Recording of her orchestral work "Cognac Zero Stars" by the Ert National Symphony Orchestra under the direction of conductor Zoe Zeniodis after selecting the work in an open invitation for young composers (January, 2019).
• First Composition Award for the work of "Alive" for piano, violin and cello at the 2nd International ACT Composition Competition in Thessaloniki (July 2019).
• 2nd Composition Award for her choral work "As much as you can" in the National Composition Competition of North College of Greece (Thessaloniki, 2016)
• Participation in the second round of the Antonin Dvorzac International Composition Competition (Prague, July 2016).
• Participation in the second round of the international Film Music Competition with her music for the film "The leaf of the poplar" by Irini Vianelli (Athens Concert Hall, May, 2017).