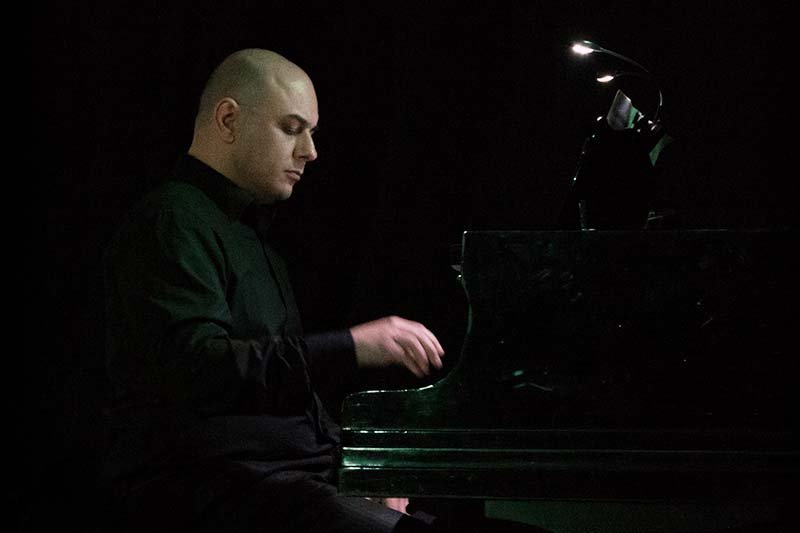 Studies
• Deree College, the American College of Greece, Athens, GR Bachelor of Arts, major in music, minor in philosophy, 2012
• Recipient of the Frances L. Rich Scholarship, and the Outstanding Graduate in Music Award
• University of West London, London, UKCertificate in Graded Examination in Theory of Music, Grade 6 Composition (Distinction),2012
● Guildhall School of Music and Drama, London, UK
Certificate in Piano Performance, Level 4 (Honors), 2003
● Nea Techni Conservatory, Athens, GR
Diploma in Classical Piano (Honors), 2003
Certificate in Classical Piano (Honors), 2000
Certificate in Harmony (Honors), 1999
Additional Education
● Acharnes Contemporary Conservatory Athens, GR
Renaissance and Baroque Counterpoint, Professor Αlexandros Kalogeras, 2018-present
● The Musical Horizons Conservatory, Athens, GR
Seminar: Music in the 20th Century I,II,III, Professor Alexandros Kalogeras, 2011-2014
Workshop: Keyboard Harmony I,II,III, Professor Alexandros Kalogeras, 2011-2014
Lectures: Theory, Technique and Analysis, Professor Alexandros Kalogeras, 2011-2018
● Musical Praxis Conservatory, Athens, GR Jazz Piano, Professor Spyros Manesis, 2011 Renaissance and Baroque Counterpoint, Professor Nikos Panagiotakis, 2013
● Nea Techni Conservatory, Athens, GR Renaissance and Baroque Counterpoint, Professor Panagiotis Adam, 2006-2007
Private Voice Lessons, Professor Ioannis Finas, 1998-2000
● IEK AKMI, Athens, GR
Music Technology (3 Semesters), 2000-2001 Masterclasses & Workshops
● Lorenda Ramou, 20th & 21st century piano repertoire, 2017 – 2018
● Christos Marinos, Analysis, Repertoire and Interpretation of Art Song, 2017 – 2021
● George Hadjinikos, Essence and Origins of Musical Interpretation, 2008 – 2015
● Theodore Antoniou, Alexandros Kalogeras, Composers Workshop, 2013
● Theodore Antoniou, Fani Kossona, Anastassis Philippakopoulos, Antonis Antonopoulos, Composition Analysis Workshop, 2012
● Peter Nagy, Piano masterclass, 2004
● George Hadjinikos, Logic and Foundations of Musical Interpretation, 2002
● Dimitris Toufexis, Piano masterclass, 2000, 2002
● Nelly Ber-Or, Alexander technique for pianists, 1999
Educational Activity
● Musical Praxis Conservatory (2010-present)
Private and studio instructor in Classical Piano, Modern Keyboard Skills for singers,
Classical and Popular Music Theory, Keyboard Harmony, Chamber music, and
Open Piano Lesson – A seminar on stage behavior and stage fright treatment for students of
classical piano, in collaboration with colleague pianist Katerina Grigoriadou.
Concert curator for the Classical music department.
● ABRSM and LCM external examinations programmes
Private instructor in Classical and Popular Piano and Theory of Music graded
examinations.
● "Nea Techni" (Athens), "McGeorge" (Rafina), "Neo Odeio Alimou" (Alimos),
"Marsyas" (Chalkida) conservatories
Private and studio instructor in Classical and Popular Piano and Theory of Music.
● Deree College, The American College of Greece, Athens, GR, 2010 – 2011
Peer Tutor – private tutoring on keyboard skills, music theory, history of western music,
musical form and analysis, essay and presentation preparation, piano accompaniment and
vocal coaching of the Deree Choir and the Vocal Techniques and Musical Theatre courses.
Professional Activity
● Collaborative Pianist for singers of classical, modern, and musical repertoire as well as for
various instruments in concerts, recitals, and examinations.
● Participation as a pianist, composer, orchestrator, co-founder, narrator, media creator and
operator, in music festivals, music-theater-dance and educational shows in Greece and
abroad.
("Music and Poetry", "Love and Revolution Part III", "The American", "Love Revised",
"The Magical World of Opera", "Stand Up Opera", "Beethoven Rocks" etc.)
● Performance and recording of works by Greek composers for solo piano, chamber and
orchestral music, and electronic music as well as his own compositions (Panagiotakis
Philippakopoulos, Kalogeras, Kissonas, Rekleitis etc.)
● Founding member of the "Praxis" and "Ars Nova" vocal ensembles, the "noiZarte" music production team, the "Compremi" music comedy group, the "Composers Union", "OperArtLab" opera production team, and the ensemble of the "Nea Techni" students "InNovart Ensemble".
Extra – Curricular Activities
● Volunteer as a vocal and instrumental accompanist for workshops and master-classes,
supertitles operator for operas, supervision and facilitation of live recording productions, responsible for venues and facilities for proper function for various summer festivals in Greece.