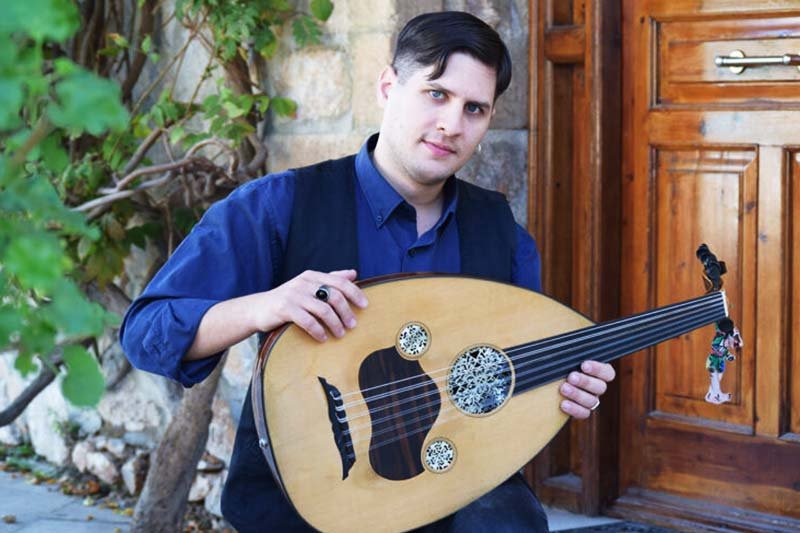 Elias Markantonis teaches Oud, at Musical Praxis Conservatory.
Ilias Markantonis was born in Athens in 1993. He is studying and performing music and shadow puppet theater (Karagiozis) since his childhood. He graduated from Alimos Music High School (Athens, Greece) where he was taught Classical and Byzantine Music theory, piano, clarinet and tamboura(saz baglama).
He studied many string and blowing instruments by himself (oud, lavta, mainland lute, mandolin,guitar, clarinet, whistles, ney, greek island bagpipe). He learned how to perform greek shadow puppet theater (Karagiozis) in Tasos Konstas " Figoures kai Koukles" theater in Plaka, Athens. He had lessons in European Harmony of Music with Giannis Sfiris, and got the European Harmony Digree. He is studying Ethnomusicology in Musicology Departement of Athens Kapodestrian University. He joined several music seminars in Crete, in Labyrinth Musical Workshop, with O.Yurdal Tokcan (2011, 2012, 2013 MASTER CLASS), Manos Achalinotopoulos (2018) and Evgenios Voulgaris (2019) and also one MASTER CLASS with Y.Tokcan in Istanbul(2017).
He had several private lessons, studying makam with Christos Tsiamoulis and Ross M. Daly, the oud with Christos Tsiamoulis, Niko Saragoudas, Haig Yazdjian and Alexandros Papadimitrakis, vocal with Marios Papadeas, saz baglama with Alexandros Papadimitrakis, and the clarinet with Makis Vasiliadis, Yorgos Kotsinis, Kostas Baos, Kostas Kopanitsanos and Alexandros Arkadopoulos. He joined many concerts with several musicians and singers (Marios Papadeas, Nikos and Yiasemi Saragoudas, Kaiti Koullia, Manos Koutsangelidis, Andreas Tsekouras, Christos Tsiamoulis).
He has performed Karagiozis in several places in Athens and Crete. He participated as a musician in several projects, like story telling performances with Valentina Papadimitraki, shadow puppet theater performances (Karagiozis) with Tasos Konstas and Athos Danellis, and the movie '"To dendro kai i kounia'", directed by Maria Douza. He is the official oud player of luthier Dimitris Papakousios's workshop in Athens, making dozens of videos demonstrating ouds, lutes and other string instruments have been made or restored in the workshop.