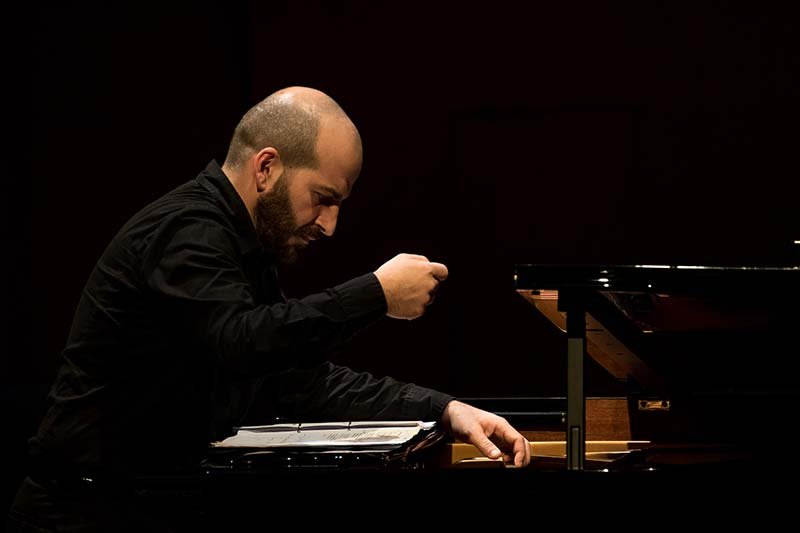 Petros Bouras teaches Piano, at Musical Praxis Conservatory.
Petros Bouras (Piano) was born in Athens, Greece. He has given plenty of concerts, including piano concerto with the Greek National Orchestra at Megaron, Athens Music Hall, and personal recitals and chamber music concerts in USA, ,Italy, Switzerland, Germany, UK, France, the Netherlands, Belgium, Spain, Armenia, Luxembourg, Albania, North Macedonia and Poland and in various halls, such as Palais de Beaux Arts (Brussels), Halles de Schaerbeek (Brussels), Salle Philarmonique de Liege (Liege), Kopleff Hall Atlanta), St Mary's Church (Cornwall), Alter Oper (Frankfurt), Onassis (Athens) and Megaron (Athens and Thessaloniki). On July 2016, he became the first Greek pianist who performed on Gulangyu, the piano island of China, giving four concerts of different repertoire.
He has been always interested in expressing himself through different kinds of music. Therefore he has collaborated with the film music composer S. Umebayashi and the conductor D. Brosse, the American Tango Flutist Jessica Quiñones, the Mezzo Soprano Alexandra Gravas and he is member of StarWound, one of the most well-known Anglophone Greek bands, with which he has performed in Luxembourg, Netherlands, Belgium, Switzerland and UK. He has worked also as an accompanist of the Ballet Company of the Greek National Opera.
Moreover, he is a member of Galan Trio, consisting of the principal string players of the Greek National Opera's Orchestra, giving several concerts in Greece and abroad. Famous composers, such as Harald Weiss (Germany), David Haladjian (Armenia), Thomas Bramel (USA), Vasco Pereira (Portugal), Vincent Kennedy (Ireland), Jonathan Ostlund (Sweden) and Nikos Xanthoulis (Greece), have composed original scores for Galan Trio. Some of these works has already edited by Schott.
He also composed music for films and theatrical plays and in October 2017 he participated in the international production of Marcel Schwald, 'Money Piece I' in Switzerland (Zurich, Basel and Bern).
Ηe participated as music-curator and performer in "Masterclass", a big theatrical production that deals with the life of Maria Callas and was invited from "Kunstfest Weimar" for participating for the 100th anniversary of Weimarer Republic.
He received his diploma from the Musical Horizons Conservatory with exceptional grade and attended classes from famous pianists such as Y. Solomon, F. Clidat and I. Pogorelich and in Summer Academies such as Musicalta.