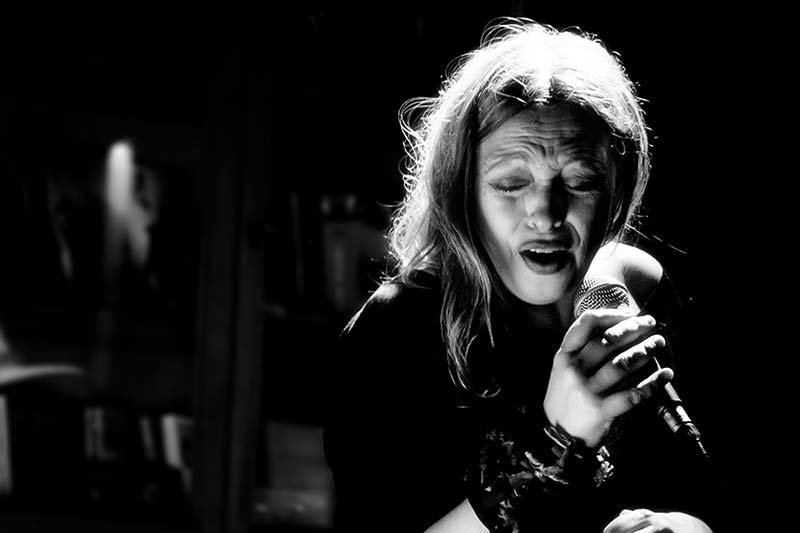 Nasia Gofa teaches Jazz Vocals, at Musical Praxis Conservatory.
Nassia Gofa was born and raised in Athens. She studied at the Faculty of Geology and Geoenvironment of the National and Kapodistrian University of Athens, specializing in Paleontology. Few years later, however, her love of music and specifically, jazz music, won her over. In 2000, she began studying at the conservatory 'Athenaeum Maria Kallas', having as her instructors Sylvios Syrros and Sofia Noiti. After her graduation, she received her Diploma in Jazz Vocals. Since then, she has become an inseparable part of the Athenian Jazz scene, not only because of her collaboration with the most well-known musicians but also as a basic member of many musical groups. She has already performed at numerous festivals and musical scenes all around Greece, as well as at the Athens Megaron Concert Hall, the Onassis Stegi, the Stavros Niarxos Foundation and the Athens Texnopolis.
Doubtlessly, one of her top moments was her participation and performance at the Neimenster concert hall of Luxemburg in 2016, as well as her role as Iokasti for the modern opera "Οedipus – Sex with mum was blinding" of Elli Papakonstantinou, music by Tilemaxos Mousas and Julia Kent, which ran for five performances at the BAM fisher Theatre in Brooklyn, New York. In 2021, the sequel of the above-mentioned play took place under the title ''Hotel AntiOedipus''. Its first digital premiere was made at the Centre Pompidu Paris in collaboration with IRCAM (Institut de Recherche et Coordination Acoustique/Musique), with its performers presenting live from five different parts of the world. As far as the record industry is concerned, she has participated in the albums ''Dog to the bone'' (Happy Dog Project), ''Chicago Giname'' (Assoi of Salvador), ''Bosa Nova'' (Demode), ''Between realities'' (Groove Elation Project), ''Cargo'' (Christos Tampouratzis), as well as in two tracks for the album ''Ξαναδιαβάζοντας τον Μίκη Θεοδωράκη Ksanadiavazontas ton Miki Theodoraki – Revisiting Mikis Theodorakis) which circulated together with the newspaper Efimerida ton Syntakton (Newspaper of the Editors). During the last years, she has been teaching jazz vocals and improvisation for major conservatories in Athens.