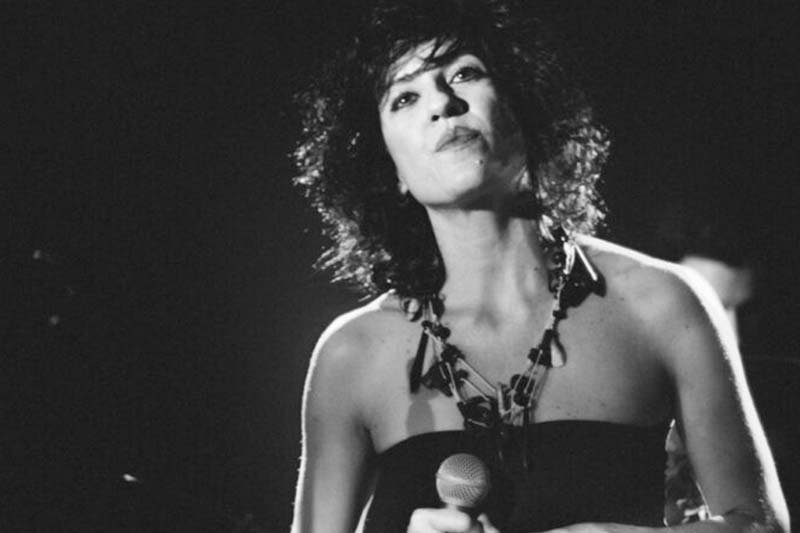 Irini Konstantinidi teaches Jazz Vocals & Jazz Impro for vocals, at Musical Praxis Conservatory.
With the lyrical, expressive and impressively clear sound of her voice, Irini Konstantinidi has achieved a very personal and sophisticated interpretation of jazz and has established herself as one of the most important Greek jazz singers.
The audience and the press distinguish her as the crystal jazz voice that is very exciting when she improvises! Her playful and creative approach to vocal improvisation and jazz phrase making her musical interpretation special. Scat (vocal improvisation) is like an extension of her storytelling and imagination. He approaches jazz as a creative game, he loves to play, in which he is not limited by difficult harmonious progress or demanding forms, as he often "invites" and enjoys such musical challenges.
When she listens to a musical composition that arouses her interest, she writes lyrics for her, right clicking on the melody and creates her personal "imprint" with her own story. She has "dressed" with her words many original jazz compositions but also famous jazz standards (by Wayne Shorter, Bill Evans and others), giving them a fresh approach and a new meaning, which mobilizes the thought and imagination of the listener.
Irene's lyrics are testimonials of her personal experiences and the music she writes comes from melodies, which are mostly inspired during a simple walk in the city. A mind-clearing walk is a blank canvas for Peace, on which she draws her musical sketches. Her teammates agree on her flexibility to combine a delicate but also full sound with a charismatic presence on stage. She is an artist who has something to say: she loves the instantaneous development and exchange of new ideas while improvising and being free in the flow of music when she sings.
Studies & Educational Activity
Irini was born in Athens and began her music studies, starting with piano lessons at the age of five. Later he studied at the Music High School of Pallini. Being in music all her life and as by nature she is a happy, creative and adventurous person, she was soon won over by jazz and graduated from the Jazz Department of the Athenaeum Conservatory in Athens in 2006 with an excellent grade and first prize in Jazz vocal performance and improvisation. He is also a graduate of the Pedagogical Department of the University of Athens (Bachelor degree) and holds a Master's degree in Jazz Singing from the Royal Conservatoire in The Hague in the Netherlands.
She started teaching jazz in 2006 and gradually started to create her own methodology for teaching jazz song and vocal improvisation. Delivers individual lessons (in person or online), offering guidance, based on a constructive combination of classical song principles and CVT (Complete Vocal Technique) elements. Two strong technical foundations that help each student reach the maximum of his vocal skills.
In addition, it offers individual or group jazz vocal improvisation lessons, deepening the technique of phrasing and scat singing and focusing on the discovery of personal style and the evolution of musical personality for each of its students. He is currently teaching Jazz song at the Athens Conservatory and at the Conservatory of Music in Athens.
As a jazz teacher, she aspires to transfer her passion for singing, voice technique, improvisation and instant creativity to young singers who want to delve into jazz.
Professional Activity
He has appeared in the most famous venues that host jazz music and in the most important jazz festivals in Greece (Athens Technopolis Jazz Festival 2015, Tinos Jazz Festival 2014, etc.) as well as in festivals and jazz clubs in the Netherlands. He has also collaborated with the Big Band of the Municipality of Athens, with the Dutch Metropole Orchestra Academy and with almost all the leading musicians of the Greek as well as the Dutch jazz scene, in the various JAZZ BOUND projects, which he has occasionally created: jazz bound
duet with double bass or piano, trio with guitar and saxophone or piano and double bass, as well as tributes to Thelonious Monk, Wayne Shorter and participations in tribute bands playing the music of Horace Silver.
The project of THE WONDERFALL QUARTET, in 2010, was the vehicle of Peace to be introduced in the space as a distinct fresh voice and to consolidate its sound in the Greek jazz scene and discography. The quartet managed to catch the attention of the media and play its music live on ERT
shows on Television and Radio. Both albums received significant publicity in the media and recorded sales in Greece and abroad. The second album of the group entitled HORIZON (April 2014) received excellent reviews and was voted the best Greek jazz album of 2014, to the liking of the critics, within the web portal JazzOnLine.gr. The quartet was also voted the best Greek jazz group of 2014.
Irene's innate curiosity and so-called growth mindset led her to take a break from her career in her homeland and pursue her dreams abroad, expanding her horizons and academic credentials. Living in the Netherlands for four years since 2016, she completed her Master in Jazz Vocals at the Royal Conservatoire of The Hague (May 2018) and collaborated as a singer and lyricist with the group Nomadic Treasures. The group's debut album was recorded in Italy in January 2018 and was released by the Italian record company A.MA Records in April 2018.
At the same time she started writing her own songs, which reflect her elegant jazz personality and her rich vocal kaleidoscope. The fruit of this inner creative "journey" was named "Little Confessions" and was presented for the first time in her postgraduate concert and later as a complete music project at the Summertime Festival in The Hague (2018).
After her return to Greece in In the summer of 2020, Irini created her new Greek jazz group and recorded in November 2020 her first purely personal album entitled "Nothing to Lose", at Sierra Studios in Athens. Giving the feeling of a personal diary, it contains original compositions and unfolds the happy personality and the jazz elegance of Irene. With this new album, Irini re-introduces her jazz voice to the public, with her own signature as a singer, composer and producer.